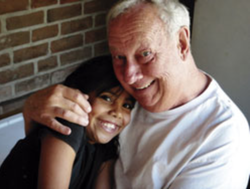 Operation Compassion Ministries operates a "Soup Kitchen" in San Antonio Tlayacapan to provide a daily meal to approximately 100 people every Monday through Friday. Volunteers deliver hot meals on wheels each day to approximately 50 poor families and the balance of the people being fed walk to the kitchen, some from as far away as Chapala.
No one is turned away and no questions are asked about need. On Fridays the Ministries also deliver a weekend package of rice, tortillas, and frijoles to the families so they have food over the weekend.
The operation is called the "Soup Kitchen" because they offer a choice of two varieties of soup each day for the meals. The soups are generally vegetable, lentils, or frijoles because meat is too expensive. Their operation requires approximaley $1,000 USD each month.